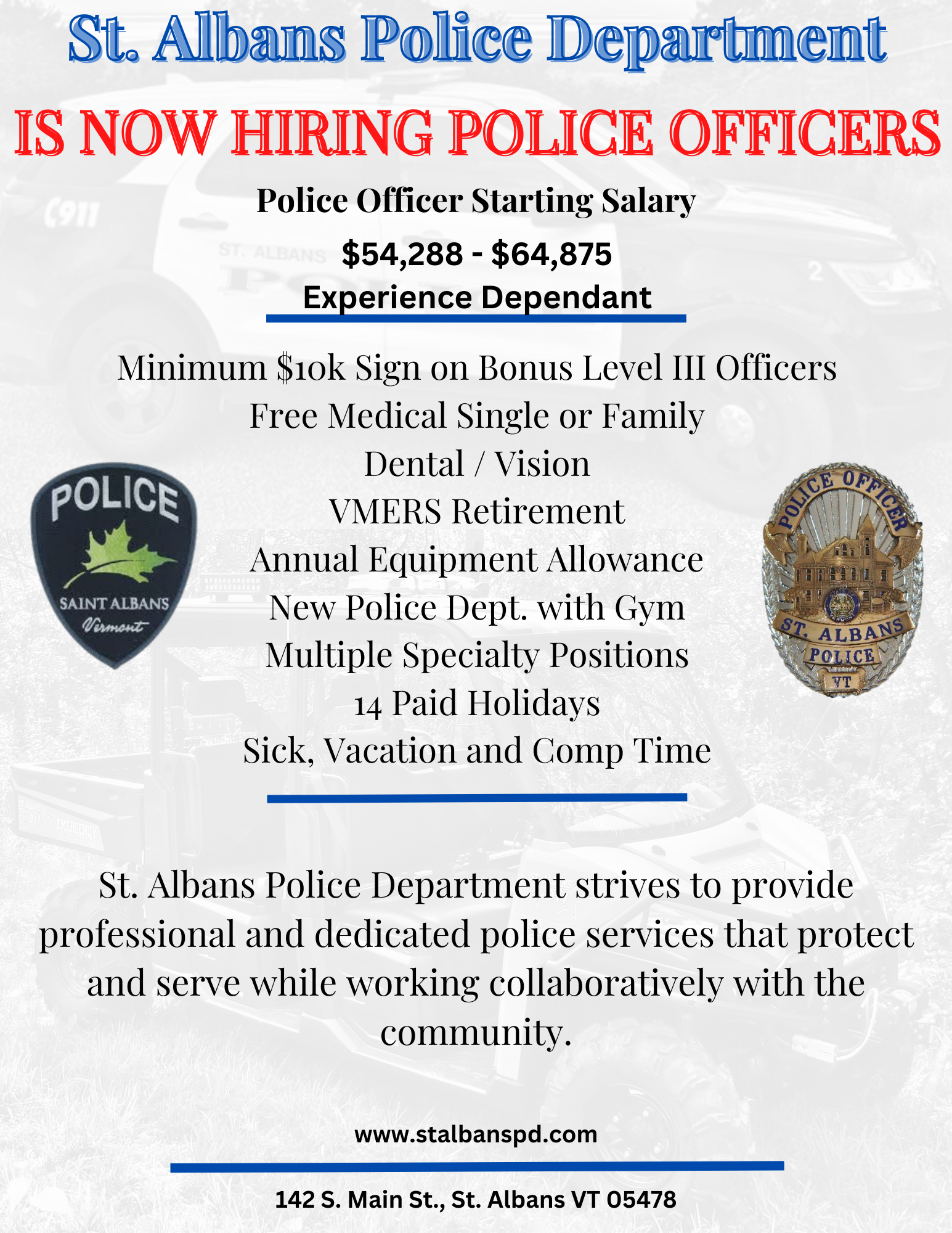 Full-Time Police Officer
The St. Albans Police Department in Vermont is actively recruiting individuals to join the largest municipality in Franklin County. On July 1st, 2024 the St. Albans Police Department will start policing our neighboring community in the Town of St. Albans. The patrol area will be approximately 62.5 square miles. This area consists of rural farmland, urban city life, shopping and portions of Lake Champlain. The Town of St. Albans is one of the fastest-growing communities in the State of Vermont and is home to some of the largest employers in the County.
Serve with Courage, Honor and Integrity.
BENEFITS:
Promotional Opportunities.
Competitive Salary: Starting salary range between $54,288.00 to $64,875.20 depending on experience.
$1.30 an hour Shift Differential plus Overtime Opportunities.
Sign-on Bonus starting at $10,000.00 with Vermont level III certification.
Free Healthcare coverage for employees, spouses, and family.
Progressive (20-year) Retirement with VMERS Plan C.
Fourteen paid Holidays; Vacation, Sick, and Comp time.
Dental and Vision coverage available.
Health Savings Account.
Equipment allowance.
Excellent equipment (vehicles, uniforms, computers).
12-Hour Shifts.
Every other weekend off.
Negotiated COLA every year on July 1st plus 2% step on anniversary date of hire.
TESTING REQUIREMENTS:
500 Meter Row and 1.5 Mile Run (new, effective for anyone entering the 116th Basic Training Course and beyond)
The physical readiness test consists of two events; a timed 1.5-mile run and 500 Meter Row Sprint. The scores from both tests will be averaged for a total physical readiness test score. The total score average for both events must be at the minimum of 40th percentile or above to be considered a passing score (Agencies may set a higher score for their hiring requirements but the Academy has the entrance score at the 40th percentile).
The requirements can be found below. Please use the chart below to find your minimum standard at the 40th percentile and train for a higher percentage to be competitive.
• 1.5 Mile Run – Females Standards
• 1.5 Mile Run – Males Standards
• 500 Meter Row – Male/Female (PDF)
MINIMUM QUALIFICATIONS:
Education: High School Diploma / GED
Experience: Entry Level
Must be US Citizen
Must be at least 21 years of age
Must have a valid Driver's License
No criminal convictions
Must be able to possess firearms
Must be able to pass the following:

Oral Interview
MMPI (Minnesota Multiphasic Personality Inventory)
Polygraph Test
Background Check
Academy Testing Requirements (above)
Interested candidates should apply for employment, cover letter, and resume to Lieutenant Benjamin Couture, St. Albans Police Department, 142 South Main Street, St. Albans, Vermont 05478. For an Application Click Here  Applications can also be sent via email at benjamin.couture@stalbanspd.com.
Applications will be accepted until suitable candidates are found.